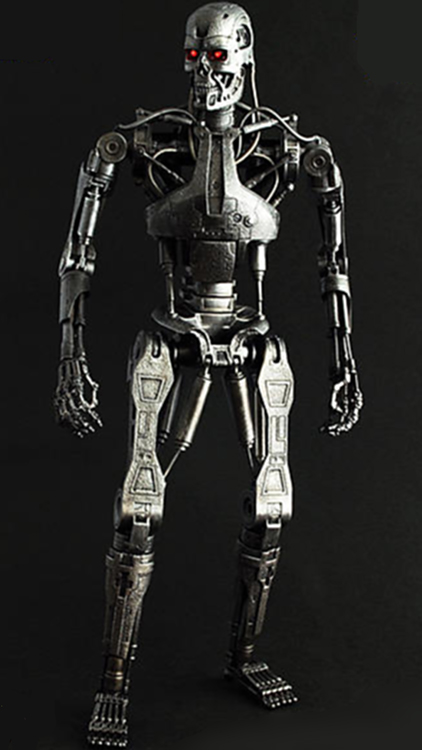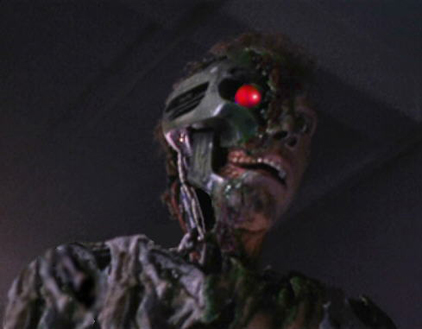 FUNCTION: Infantry, Short-term Infiltration, Prison Sentry

INTELLIGENCE- To preclude the chance of the T-700s being subverted, the brain of the T-700 was scaled back and given rigorous safeties to prevent self-awareness. When removed, the T-700 CPU has a suicide feature rendering it impossible to reverse engineer. The T-700 features the 800-S Neural Net CPU which is permanently set to "read only" mode (new data and programming cannot be written to the non-volatile memory area). Unlike the standard 800 Neural Net CPU, there is no firmware that can be reset to allow for "write mode" capability. That being said, the 800-S contains a pre-programmed knowledge-base of mission directives, coordinated tactics for different battlefield conditions and scenarios, human language, and combat tactics. The programming of the 800-S is not as extensive or complex as what is found in the T-800 models.
Note: T-700 combat programming is essentially the same as what the T-600 has, which was, in turn, derived from the combat programming of the old T-70. T-700s are intended to be combat fodder for the front lines, so Skynet never bothered to update their software to take advantage of their advanced hardware. However, their tactical reaction time and ability to coordinate based on this programming is alarmingly more effective than the T-600. They are extremely dangerous opponents.
However, new data can be entered into volatile memory allowing for units to temporarily "learn" information, run battlefield calculations and ballistic trajectories, keep track of enemy forces, and calculate casualties. Unlike the T-600, the T-700 has considerable volatile memory storage capacity, allowing for sophisticated coordination during missions. Over time the information "learned" is erased by new information making the T-700 capable of only basic observational learning and limited tactical coordination (still light years ahead of the T-600). Though the 800-S Neural Net CPU can form a complex understanding of its environment, it cannot build on this understanding as its logical perceptions are cyclically erased. Consequently, this model is not capable of true independent thought.

The 800-S Neural Net CPU is a variant of the 800 series CPU found in the T-800. However, the 800-S is distinguished by lower quality manufacturing for mass production resulting in slower mental speed, fewer quantum processing cores, and a smaller cache of nonvolatile and volatile memory than the T-800 or T-680. It is made from the same miniaturized fabrication process as the 800 series and is therefore highly resistant to damage by physical shock and electromagnetic radiation. These units are capable of convincing human speech and advanced methods of communication and battlefield coordination. On the battlefield they take direction easily, though they are incapable of taking strategic initiative. Despite these factors, the T-700s were vastly more deadly than any Terminators ever produced before them and were a rude awakening for the human resistance.
Note: The 800-S CPUs have about 46 percent of the computational capacity of the 800 Series CPU due to the defective cores and pipelines being disabled and the CPU being clocked at a lower speed (they are actually simply 800 series CPUs that were too unstable to make the final cut). Their overall data processing throughput is even less than 46 percent due to the fact that they are still using instruction sets from the T-600 series (600-A Neural Net CPU) which do not take advantage of the 800 Series architecture. When the T-700 series was first deployed the software for the T-800 series had not even been developed and tested yet.

COMBAT
3 modes of operation:

direct (directed by Skynet defense computers like soldiers in a war game);

automatic (individual units acting automatically to a variety of preprogrammed conditions); and

autonomous (single units relinquished to their own control acting independently)
CONCEALMENT- Titanium alloy endoskeleton concealed by optional latex skin (duraplast) with foam padding to mimic real human musculature. When in infiltration mode, the teeth are painted white. Unlike the T-600, the T-700 actually looks convincing. The materials used in the latex housing of the T-700 are not prone to tearing at the joints or discoloration. Though most T-700s seen are foot soldiers without any disguise, the infiltration role was often used.

CONSTRUCTION- The titanium alloy endoskeleton stands roughly 6' and is identical to that of the T-800, save for inferior materials. It has no parts that are composed of hyper alloy or other advanced materials. It has a dull gray textured appearance, unlike the polished appearance of the T-800. However, the construction of the model is greatly improved from the T-600 in terms of tensile strength and agility, making it highly maneuverable and virtually invincible to small arms fire. It is also more resistant to plasma weaponry than earlier models, though a direct hit from plasma rifle at close range will critically damage or destroy a T-700.

Note: A T-700 can be refit with a standard 800 Series Neural Net CPU (which can be switched to a self-aware mode), but cannot be refit with a 600-B CPU as the cranial housing can only accommodates a CPU with the miniaturized 800 series fabrication process. However, extensive modifications to the T-700 body can result in a 600-B CPU being successfully transplanted. These modifications are not possible on a T-800 body due to the fact that the hyper-allow chassis cannot be welded or modified through conventional means. As a consequence, rogue T-680 units actively hunt the more durable T-700s in order to upgrade their bodies. The T-700 components are universally compatible with the T-800 models. A damaged T-800 will actively hunt and destroy a T-700 for temporary parts in order to complete a mission.

WEAPONRY- The T-700 is issued with a Westinghouse ME25 (or ME27) Plasma rifle, and the General Dynamics RBS-80 Plasma Pulse Gun. However, they can operate most human machinery, vehicles, and weaponry they encounter in the field due to their detailed files.

CAPABILITIES- In addition to the above listed capabilities the 700 Series has many features. The T-700 can travel on all terrain with little difficulty. It can operate human weaponry and machinery. New units are said to be able to run as fast as 37 mph (50 mph for short bursts). This model can theoretically press about 5 tons, but the tensile strength of the skeleton can only support about 2 tons before sustaining structural damage.

WEAK POINTS:

Can be detected by animals at great distance.

Not as resistant to plasma weaponry as the T-800.

Not capable of true independent thought, creativity, or strategy.

Only capable of short term infiltration as behavior is too primitive to pass for a human.

Hunted by rogue Terminators for parts and upgrades.



THREAT LEVEL: High